PlayHooray kids parties are perfect for children ages 6 months to 6 years. At a PlayHooray children's party you can expect fabulously fun music and movement activities! Children will play with balls, ride on hobby horses, dance with party shakers, keep the beat with maracas and drums, and take a pretend ride in a pop-up bus and fire truck, to name a few.
Our music is a mixture of pop tunes and children's party favorites. We will have kids and adults alike boppin' to the party beat! Our interactive kid parties are great for children's birthday parties, baby parties, Christenings, holiday parties, naming ceremonies, or any time there are children to be entertained.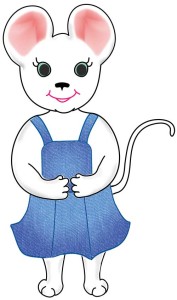 The star of PlayHooray is our very own puppet Molly Mouse!
Our lovable puppet, Molly Mouse, always comes out of her brightly colored barn in her festive party skirt to get the party started! Then all the fun activities begin! Our children's parties will keep your kids moving, singing and dancing. To wind down after the fun-filled play time the children make a simple, bright and colorful craft. Children love to create something that is all their own to take home with them.
Since 2001, PlayHooray has provided children's party entertainment in homes, restaurants, community centers, parks and Temples. At "PlayHooray Parties To Go" we bring the party to you! You provide the location and we provide the fun. From Montauk to Manhattan and the Tr-State area our joyful PlayHooray parties are always a hit. Many families have us back year after year because it is so enjoyable and they know we can customize our party to engage all the children as they get older.