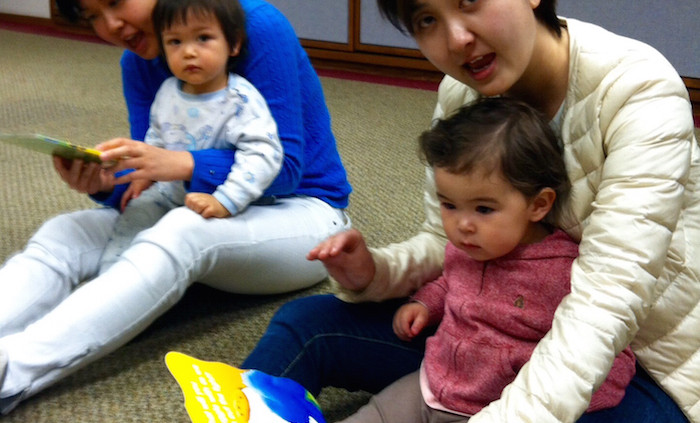 PlayHooray kids classes are held at libraries across Nassau and Suffolk County helping to bring adults and children together. PlayHooray has been conducting kids classes on Long Island since 2001.
Libraries have great resources for parents and kids.  Books and a love of learning are primary but libraries also offer a sense of community, play and socialization. Libraries make it possible to bring neighborhood people together. You can network with other parents and children can socialize with each other during PlayHooray kids classes at libraries.
The theme of this year's National Library Week (April 10 – 16) was  "Libraries Transform".  The Honorary Chair, Gene Luen Yang, put it best, "Libraries transform lives and communities by providing free access to technology, career development resources, and the skills to help people thrive in the digital age."
In honor of libraries and librarians everywhere, we wanted to share the Top Ten Reasons to take your young child to the library.
10 -It's a Community Center that fosters giving and sharing
9- Libraries offer peace & quiet
8- Most have an indoor play space or outdoor playground
7- You can dream away on a rainy day, immerse yourself in a book
6- Socialize and network with other parents and kids
5- Libraries have areas for reading, crafts, games and puzzles
4- The environment instills a love of learning, creativity and curiosity
3- Children learn to play side-by-side aiding in communication and fun
2- Librarians are "the bomb diggity" – they know everything !
1- To enjoy a PlayHooray class!
Kids Classes At PlayHooray Help Transform Communities
At our PlayHoooray classes for kids we strive to honor the theme of this year's National Library week…helping to transform communities. Although we do Mom's Groups, Nursery Preschools and kids parties most of our "mommy and me" kids classes are held at libraries. The biggest joy is to see the kids go through school, girl scouts, dance and sports together when they originally started out together in a PlayHooray class at their local library.
Do you remember your first trip to the library? Remember the feeling of getting your first library card with your parent? It can be a magical moment for many kids. Kids love seeing their name on a library card for the first time.  This experience gives kids a feeling of pride and empowerment. It's a right of passage and continues to be until this very day.
This week in Oceanside, New York it happened to a child who attends our PlayHooray class. That "aha" moment you experience at the library.  Bridget, got her first library card. She held it out to show all the PlayHooray staff members. She was so proud of her brand new library card. It really was a thrill to see her expression!
From 1,000 books before Kindergarten to story time and summer reading programs, libraries have much to offer kids and parents. Here are some online resources to learn more about the benefits of being active in your local library.
http://www.lilrc.org (Long Island Library Resources Council)
To learn more about PlayHooray kids classes being held in libraries throughout Nassau and Suffolk Counties contact us at 516-768-4701 or check our class schedule at playhooray.com.
https://playhooray.com/wp-content/uploads/2016/04/playhoorayrkidsreading.jpg
765
700
Catherine Flores
https://playhooray.com/wp-content/uploads/2015/08/playhoorayLogoR-2-300x101.jpg
Catherine Flores
2016-04-25 14:43:38
2016-05-09 20:01:25
Kids Classes In Libraries Aide In Transforming Communities